Bicycle Accidents NYC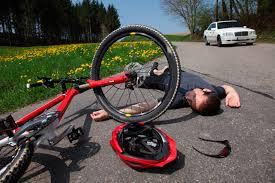 If you've ever biked in NYC, you know the fear of getting hit by a crazy driver. You have certain rights if you've been hit by a driver while riding a bike.
A couple things you should know:
1. If you're hurt in a bike accident, your medical benefits and lost wages (to an extent) are covered by the car's insurance policy.
2. On top of Medical benefits, you are entitled to bring a claim or lawsuit against the car's insurance.
What you should do after an accident:
1. Don't leave the scene and don't let the driver leave the scene. Get the driver's personal information and insurance information. Take a picture of the driver's license, insurance card and plate #.
2. If the driver tries to leave the scene after he/she hits you, get the plate #, go to the closest police precinct immediately and report the accident.
3. Take pictures and videos of the accident scene and the property damage.
4. If there are any witnesses, get detailed contact information.
5. Contact an attorney immediately to walk you through the process.