Bedsores in Nursing Homes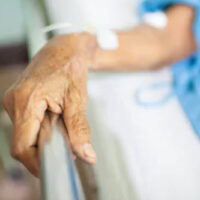 When a person stays in one place for too long, they can develop bedsores. Bedsores are ulcers that occur at pressure points, where the skin meets a bed or wheelchair. They occur because the skin loses blood flow and starts to decay.
Most people don't get bedsores because they move often. Even at night, we may toss and turn in our sleep. However, this is not the case in nursing homes. Many patients are immobile. They cannot walk or get out of bed. They have to have assistance from staff.
The problem is that staff members are not always available to assist them. Bedsores can develop over the course of a few hours if the blood supply is cut off to the skin. However, they are more likely to occur after multiple days of non-movement.
Bedsores need to be treated quickly. Otherwise, they become red and painful. They can even develop infection and cause death.
Locations and Stages of Bedsores 
Bedsores do not solely develop on the top layer of skin. These wounds can be deep, affecting the muscle and bone. They can affect various parts of the body, including the following:
Buttocks area
Hips
Heels of the feet
Backs and sides of the knees
Shoulder blades
Back of the head
Bedsores can be classified by four stages:
Stage 1. This is the least severe stage. The area is red and warm to the touch. The patient may also complain of pain, itchiness, or burning.
Stage 2. In a Stage 2 bedsore, the area looks more damaged and may have an open sore or blister. The skin around the wound may be discolored and the patient may be in a lot of pain.
Stage 3. A Stage 3 bedsore has damage below the skin's surface. The area will have a crater-like appearance.
Stage 4. Muscles, tendons, bones, and joints may be affected in a Stage 4 bedsore. The area is severely damaged and there is a large wound present. The risk of infection is high.
Nursing Home Neglect
When a nursing home patient develops bedsores, it may be considered nursing home neglect. Neglect occurs when a nursing home fails to provide proper care, causing a resident to suffer serious harm.
Bedsores can form if nursing home staff members fail to:
Adequately provide food and water
Properly move nursing home residents
Reposition residents to prevent excess pressure from creating skin ulcers
Contact Us Today
 Nursing home staff are supposed to take good care of your loved ones, but that is not always the case. Many patients are neglected and end up with infectious or even deadly bedsores.
Bedsores are often not the only sign that a nursing home is negligent. If your loved one has suffered harm, take action and protect them from further harm. Contact Cohan Law Firm to file a claim and get the compensation your loved one deserves. Schedule a free consultation today by calling (855) 855-0321 or (212) 601-2693.
Source:
hopkinsmedicine.org/health/conditions-and-diseases/bedsores