MTA CEO Sued for Slip and Fall on His Property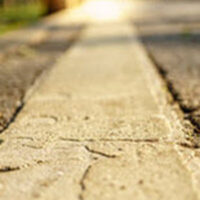 Slips and falls can cause serious, life-altering injuries – and New York property owners must uphold public safety whenever possible. Even a cracked sidewalk can cause someone to lose their footing, sending them tumbling to the cement. This can result in permanent disabilities or even death. The most influential members of our society should also be held accountable for safety issues on their properties, and this is why the CEO of the MTA is now facing a slip-and-fall lawsuit in Brooklyn.
Jogger Claims She Suffered Permanent Injuries Thanks to Janno Lieber's Sidewalk 
On September 2nd of 2023, it was reported that MTA CEO Janno Lieber had been sued by an injured jogger. This woman claims that she lost her footing due to a "large crack" in the sidewalk on Lieber's property. The accident sent her tumbling to the ground, and she allegedly suffered permanent injuries, severe pain, and other damages. The property in question is a multi-million-dollar mansion in Brooklyn.
Although the lawsuit is making headlines today, this battle has been ongoing since last year. In September of 2023, the plaintiff pointed out that the sidewalk was only repaired a few months ago – long after the hazard had been highlighted by this lawsuit. She argues that this suggests a total disregard for public safety, as the crack remained in place even after the plaintiff had drawn attention to it. It should also be noted, however, that the crack seemed to have been located between two homes rather than directly in front of Lieber's property. This might have led to some confusion as to who should make the repairs.
The MTA is far from popular these days due to fee hikes and a collapse of public safety. This new lawsuit has given many commuters the opportunity to vent their frustration at the CEO, with some claiming that his alleged failure to repair his sidewalk reflects his general career failures.
 Are Homeowners Required to Repair Their Sidewalks?
New York's bylaws clearly state that homeowners are responsible for maintaining and repairing the sidewalks that fall on their properties. These homeowners should pay for the costs of these repairs, and they are also expected to take the necessary steps immediately after becoming aware of potential hazards. Sometimes, the Department of Transportation will foot the bill for these repairs – but not always. In addition, there must be a "substantial defect" in order to warrant necessary repairs.
Where Can I Find a Qualified, Experienced Personal Injury Attorney in Brooklyn? 
If you've been searching for a qualified, experienced New York personal injury lawyer, look no further than Cohan Law, PLLC. Over the years, we have helped numerous slip-and-fall plaintiffs pursue positive legal outcomes. If you have slipped and fallen on a cracked sidewalk, a liquid spill, or a set of broken stairs, you may be eligible for compensation. Book your consultation today to get started with an effective action plan and pursue justice.
Sources: 
nypost.com/2023/09/02/mta-ceo-janno-lieber-sued-over-injury-claim-outside-nyc-home/
bklyner.com/are-you-responsible-for-sidewalk-repairs-know-your-rights/