Pursuing Compensation for a Bus Crash in New York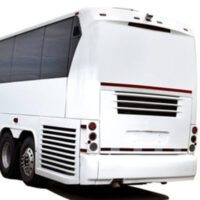 There are many important benefits associated with riding the bus. Those who choose this mode of transport often do so because it is more affordable or more sustainable. But traveling by bus also comes with its own set of challenges and dangers. Although bus accidents are rare in New York, they have the potential to cause serious, life-altering injuries. In addition, bus accidents seem to be increasing in New York.
Bus Accidents Are All Too Common in New York
 Bus accidents seem to be increasing at a worrying pace in New York. On July 23rd, a bus crash in the Bronx reportedly injured 10 people. Authorities say that a van "rammed" into the back of an MTA bus, leaving a mess of shattered glass scattered across the roadway. Of the ten who suffered injuries, seven were hospitalized. It is not clear why the van rammed into the back of the bus, but the wording seems suspect. The phrase "ramming" almost suggests that this was an intentional or extremely reckless act rather than a traditional "rear-end" accident. However, we can only speculate about who was at fault.
Surveillance footage shows a shocking scene, with the bus engine bursting into flames after the initial impact. We also know that the driver apparently transports senior citizens on a regular basis in the van, although it is not clear why – or whether this was part of a regular job. Thankfully, no seniors were present in the van at the time of the accident. Another interesting detail involves a woman's testimony at the scene of the crash. Claiming to be the driver's mother, she claimed that her son suffers from regular seizures. Although the details raise many questions, it is relatively clear that the driver in the van caused the accident.
This comes just a few weeks after a high-profile collision between two buses in Manhattan. On July 7th, it was reported that a city transit bus and a double-decker tour guide bus had collided in an intersection. In this case, it seems relatively clear that the driver of the tour bus was to blame for the collision. Reports stated that this bus driver traveled through a red light before the collision. Passengers in the tour bus also claim that the bus driver was operating the vehicle erratically and recklessly prior to the collision. This accident resulted in dozens of injuries and hospitalizations.
Where Can I Find a Qualified Bus Accident Attorney in Melville? 
If you've been searching for a qualified, experienced New York bus accident attorney, look no further than Cohan Law, PLLC. We know how life-altering and traumatic bus accidents can be, and we're ready to guide you toward a positive outcome in a confident, efficient manner. Filing an injury claim can provide you with compensation for medical expenses, missed wages, and more. Reach out today to get started.
Sources: 
usatoday.com/story/news/nation/2023/07/07/new-york-bus-crash-double-decker/70390512007/
cbsnews.com/newyork/news/fdny-10-injured-in-mta-bus-crash-in-west-farms-section-of-bronx/