Suing for Defective Contact Lenses in New York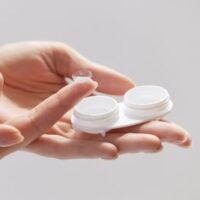 According to the CDC, roughly 45 million Americans wear contact lenses on a regular basis. Most of these individuals are female. The CDC has also issued continued warnings of the risks associated with contact lenses – in particular the danger of infections, germs, and other medical issues. So what happens if you suffer an injury due to your contact lenses? Can you sue the company behind the contact lenses to receive compensation for your medical expenses, missed wages, and other damages?
Woman Sues Contact Lens Company in New York Supreme Court 
On July 7th of 2023, it was reported that a woman was suing a contact lens company in a New York Supreme Court for allegedly causing serious medical issues. She claims that a few weeks after using these lenses, she began to experience serious pain and issues in her left eye. These issues eventually became so serious that she was forced to seek medical attention. It was at this point that she was diagnosed with iridocyclitis – a serious type of eye infection. A subsequent diagnosis of corneal ulcer soon followed.
After her symptoms worsened, she visited the hospital for discharge, redness, and vision loss. With no other options, doctors were eventually forced to surgically remove the eye. She now wears a prosthetic eyeball in her left eye socket. According to her lawsuit, these issues were caused by the use of a silicone-based polymer called "Methafilcon A." Optometrists have raised concerns about this material, arguing that it does not provide enough oxygen to the eye. The plaintiff argues that no optometrist in the United States currently prescribed contact lenses that contain this material.
On the other hand, the contact lenses in question were fully approved by the FDA. This could pose questions and challenges as she pursues compensation. Aside from the contact lens company (which is based in Taiwan), the plaintiff is also suing Vision Path – the company that sold the lenses online.
Vision Path has dealt with serious legal issues in the past, including a $3.5-million settlement to the FDA in 2022 for failing to obtain proper prescriptions before distributing contact lenses to customers. This could also prove to be advantageous as the plaintiff strives to establish negligence. Furthermore, the company paid a settlement of almost $400,000 in Texas for alleged deceptive marketing. It's worth noting that even though the company paid these settlements, it does not acknowledge or admit any wrongdoing.
Where Can I Find a Qualified Personal Injury Attorney in Manhattan? 
If you've been searching for a New York personal injury lawyer who can help with contact lenses lawsuits, look no further than Cohan Law, PLLC. We know that there are many defective medical products in the United States that have the potential to cause serious injuries. The good news is that there's no need to simply sit back and accept these injuries. Book your consultation today, and you can discuss options for compensation. Reach out now.
Sources: 
nbcnews.com/health/health-news/cdc-says-40-million-contact-lens-wearers-are-doing-it-n413351
cbsnews.com/news/stephanie-guarisco-hubble-contacts-lens-lawsuit/