Common Causes Of Subway Accidents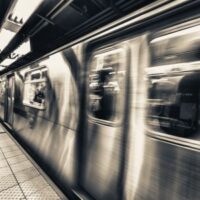 It is estimated that more than 2 million New Yorkers ride the subway on a daily basis. While the subway is an effective way to get around New York City, However, just like any other form of transportation, accidents can happen.
These accidents can happen on or around the subway. You could be injured by the subway driver's negligence or perhaps by another passenger. In fact, most subway accidents are caused by human error. This could include a lot of things, like signal problems or a driver not paying attention. There are many safety measures in place on subways, but accidents can still occur.
If you ride a subway, you'll want to stay safe. Here are some other causes of accidents you need to be aware of.
Equipment Malfunction
Equipment failure can include things like a broken rail causing a train derailment or an elevator malfunction that injures passengers. Equipment failure is not often caused by human error, but it  can still cause injuries and make you eligible for financial compensation from the Metropolitan Transportation Authority (MTA). The MTA website often has information about subway service disruptions or delays.
Poor Lighting
Low lighting or a lack of lights altogether can be a major problem, causing accidents. When there is a lack of lighting on the platform, in train cars, or in the tunnels, this can make it difficult for passengers to see where they are going. This can lead to serious injuries from trips and falls.
Lack of Security
Inadequate security, like a lack of security cameras, poor lighting, and not enough police officers, can cause accidents and injuries. If you witness a security breach, be sure to report it, as the MTA has a duty to keep passengers safe.
Passenger Negligence
If you are injured due to your own negligence, like standing too close to a door, then you likely won't be able to recover compensation. However, if you are injured by another passenger's negligence, like if they bumped into you too hard and caused you to fall or hit something, then you should report it to the MTA so you can receive compensation.
Criminal Activity
Criminal activity is intentional behavior but it is still a common cause of subway accidents. Common crimes include assaults and robberies. If you are a victim of a crime, it's important to report it to the MTA. If the crime was committed by a subway employee (for example, you were sexually assaulted), you may be able to file a lawsuit against the MTA.
Contact Us Today
With many New Yorkers using subways on a regular basis, accidents are a reality for some. It's important for riders to always be aware of their surroundings so they can stay safe.
If you have been injured by a fall, assault, or other injury on a New York subway, the New York personal injury lawyers at Cohan Law Firm can help you get full and fair compensation. We will help you file a premises liability claim. Give us a call at (855) 855-0321 or (212) 601-2693 to schedule a free consultation.
Source:
healthbenefitstimes.com/subway-accidents-the-most-common-causes-and-types-of-injuries/