E-Scooters Proving Deadly in New York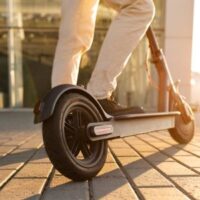 For many people in New York, e-scooters represent a new and affordable way to get around town. With a quick battery charge, commuters can zip from one side of the city to the other without spending thousands of dollars on gas and other auto-related expenses. Some e-scooter enthusiasts may also feel encouraged by the low emissions and overall sustainability associated with these vehicles. But while scooters provide numerous advantages, they also have several downsides. Chief among these downsides is the potential for a deadly accident.
New York Scooter Accident Results in Fatality 
On August 28th, it was reported that a man had lost his life in a New York scooter accident. The 67-year-old was thrown from his e-scooter while trying to cross a road. Interestingly, this accident seems to have been caused by a poorly-maintained road rather than by a negligent driver. The report stated that the accident was caused by a "defect" in the pavement. This was probably some kind of pothole or crack that caused the elderly man to lose control.
First responders arrived to find the senior lying on the pavement with a serious head injury. He was quickly transported to a nearby hospital, but he ultimately succumbed to the fatal injury. The crash is apparently under investigation, and this investigation may determine that the plaintiff's injuries were caused by the lack of proper road or sidewalk maintenance. If this is the case, then family members may have the opportunity to sue the local municipal government for failing to maintain the road.
In other news, a woman was recently killed in Buffalo after being struck while riding her scooter. In addition, two youths were seriously injured in this incident. In a more bizarre incident, a police officer was suspended on August 24th when he apparently "threw a cooler" at a scooter-riding suspect in the Bronx. The suspect was fleeing a drug sting operation when the police sergeant grabbed a cooler from a family and threw it at the fleeing individual. It is expected that this incident will be viewed as excessive force.
What Might Cause a Scooter Accident in New York? 
We have established that one possible cause for a scooter accident in New York is a poorly-maintained road. But what are some other potential catalysts for these accidents? Here are a few examples:
Driver negligence
Product defects
Confusing signage
Crashes with other e-scooter drivers
Where Can I Find a Qualified Personal Injury Attorney in New York? 
If you were injured in an e-scooter accident in Manhattan, consider getting in touch with a qualified, experienced New York personal injury attorney. E-scooter accidents can lead to serious injuries, and sometimes these crashes can be fatal. If you have lost a loved one due to one of these accidents, you may have the opportunity to file a wrongful death lawsuit against a negligent party. Book a consultation with Cohan Law, PLLC to assess your legal options in more detail.
Sources: 
brooklynpaper.com/kensington-man-dies-scooter-accident/
buffalonews.com/news/local/accident-and-incident/woman-on-scooter-killed-two-youth-seriously-injured-in-hamburg-accidents/article_9c08910a-4058-11ee-829c-4327e760025b.html