Four People Injured in Brooklyn Garbage Truck Accident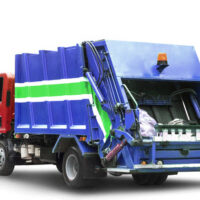 Commercial trucks are constantly causing accidents across New York, and these accidents have the potential to cause serious injuries for innocent people. A recent garbage truck fiasco in Brooklyn highlighted this issue and led to four injuries. The truth is that these incidents are becoming quite common, and injured victims must fight for their rights to recover compensation for medical expenses, missed wages, emotional distress, and other damages.
Trash Left Scattered Across Brooklyn Queens Expressway After Truck Overturns 
On August 23rd, it was reported that a garbage truck had overturned on the Brooklyn Queens Expressway – also known simply as the "BQE." The crash left a mountain of trash scattered across the highway in both directions, causing traffic to grind to a halt for hours. But while commuters may have felt frustrated at the delay, four people suffered much greater inconvenience.
The crash was caused when two commercial trucks collided, suggesting that someone must have engaged in some kind of negligence. Four people were reported to have suffered unspecified injuries as a result of the crash, but it is not known whether they were truck drivers, innocent motorists, or a combination of both. If nothing else, this suggests that commercial trucks still cause plenty of serious accidents in New York.
Suing for a Garbage Truck Accident in New York
 Plaintiffs who have suffered injuries due to garbage truck accidents in New York may pursue compensation in various ways. The first option is to file a no-fault injury claim through the PIP insurance system. Another option would be to file a personal injury lawsuit against the trucking company or organization, but this is only possible if the injury is deemed "serious."
Regardless of which option you choose, the path to compensation may be affected by the specific trucking company or organization involved. For example, a crash caused by a municipal garbage truck would require you to file a claim against the government. This process is slightly different compared to suing a private trucking company.
Whatever the case may be, injured plaintiffs can pursue a range of damages as a result of their truck accidents. These damages may be both economic and non-economic in nature. However, a no-fault PIP claim will not provide compensation for non-economic damages such as emotional distress or PTSD. To determine the most appropriate course of action, consider booking a consultation with an experienced personal injury attorney in New York.
Where Can I Find a Qualified, Experienced Personal Injury Attorney in New York? 
If you've been searching for a qualified New York personal injury attorney, look no further than Cohan Law, PLLC. Over the years, we have helped numerous injured plaintiffs pursue compensation after suffering auto accidents. We know that commercial trucks have the potential to cause especially serious injuries, including disabilities, disfigurements, PTSD, and much more. Reach out today to book a consultation and pursue compensation for the injuries you have suffered.
Sources: 
abc7ny.com/bqe-traffic-accident-closed/13688472/
dfs.ny.gov/consumers/auto_insurance/nofault_faqs