New York Crane Collapse Highlights Construction Safety Issues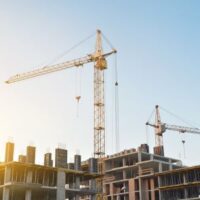 In a first-world country like the United States, cranes are not supposed to simply topple over for no reason. These incidents seem especially strange in New York City, the financial center of America. Unfortunately, infrastructure issues and construction accidents have become increasingly common in New York, and many innocent people are becoming injured as a result. Although these incidents are becoming more frequent, victims always have the right to seek compensation and justice.
What Caused the Crane to Collapse in Manhattan? 
On July 26th, a crane collapsed in the middle of Manhattan. The crane had apparently caught fire before tumbling to the ground during rush hour, and first responders arrived just in time to watch the scene unfold helplessly. It was later determined that the fire had caused the top portion of the crane to snap off and crash into the street below. Thankfully, only six minor injuries were reported. But although these injuries could have been much worse, they still represent real harm suffered by real people. In addition, this entire incident serves as a worrying symptom of declining safety and increasing accidents in New York work sites.
The fire apparently weakened a cable that was supporting the crane's arm. Although the operator attempted to extinguish the blaze, he was ultimately forced to flee the cabin and climb down to safety before the collapse. The real question is obvious: What caused the fire? While an investigation is still underway, it seems as though the engine compartment of the crane suffered some kind of malfunction.
Further investigation determined that the crane was apparently owned by Mr. Lomma's companies. These companies include "New York Crane and Equipment" and "Lomma Crane and Rigging." Both of these companies have been involved in numerous crane accidents over the years, including a 2008 crane collapse that claimed two lives.
While Mr. Lomma was cleared of all criminal charges, he faced civil actions for these accidents. Ultimately, however, these consequences have obviously not prevented him from continuing to operate crane businesses in Manhattan. Will he finally be banned from conducting further business activities of this nature in New York? That remains to be seen, and a further investigation will determine any potential wrongdoing or negligence.
It is also worth noting that employees may have the ability to sue employers directly for injuries sustained during crane collapses, as these may constitute "gravity-related" accidents under the Scaffold Law.
Where Can I Find a Qualified Injury Attorney in New York? 
If you've been searching for a qualified, experienced New York personal injury attorney, look no further than Cohan Law, PLLC. Over the years, we have helped numerous injured victims – including those who have been harmed by construction accidents and building collapses. We know that these incidents can be traumatic and life-altering, but you can seek compensation with the right strategy. Book your consultation today to get started.
Sources: 
reuters.com/world/us/crane-collapses-new-york-city-least-two-injured-2023-07-26/
nytimes.com/2023/07/26/nyregion/crane-collapse-nyc-hudson-yards.html