Are E-Bike Batteries Causing Fires in New York?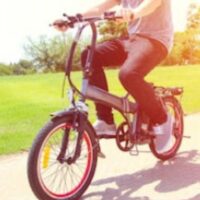 E-bikes are becoming increasingly popular throughout New York, but they may be more dangerous than many people realize. While zooming down a busy street on an electric bike certainly comes with its own risks, the batteries also pose fire hazards when stored inside buildings. Charging these bikes overnight has the potential to spark serious fires, and fire officials in New York City are now considering whether this hazard caused a recent blaze in the Big Apple.
Firefighters Are Investigating Whether an E-Bike Caused an Apartment Fire 
On August 14th, the Claims Journal reported that fire investigators were looking into the cause of an apartment fire in New York City – one that could have been sparked by an e-bike battery. The fire claimed the life of a 93-year-old woman who couldn't escape in time. Tragically, the owner of the e-bike seems to be this elderly woman's son. If this fire was in fact sparked by a defective lithium-ion battery, it would be added to the growing list of such incidents in New York City. Apparently, 100 fires have been caused by these defective batteries within the past year alone. Of these incidents, 14 have been fatal. This represents a 100% increase in fatalities compared to the previous year.
 On August 12th, it was reported that two fires in New York City were sparked by lithium-ion batteries within the space of 24 hours. One of which was the aforementioned apartment fire, while the second affected another apartment building in the Bronx.
How Do Lithium Ion Batteries Start Fires? 
Typically, lithium-ion batteries occur when people leave bikes or scooters charging overnight or without supervision. These fires can also occur with full-size passenger vehicles such as Teslas. The science behind these fires lies with the thermal runway – a process that causes temperature and pressure to rapidly increase. This in turn releases combustible gas, which can ignite and cause a serious fire.
At the end of the day, however, almost all of these fires are caused by manufacturing defects. While the fire may be explained through science, a much simpler explanation is that the manufacturer did not act in a responsible manner when creating the product. Testing, quality control, and effective design principles should eliminate these hazards. If a lithium ion battery bursts into flames when it is left charging, the product manufacturer should be held accountable. The rising popularity of e-bikes is causing negligent companies to flood the market with cheap products that have serious design flaws in the pursuit of profit.
Where Can I Find a Qualified, Experienced Injury Attorney in New York? 
If you have been injured by an e-bike fire or any other accident involving an electric vehicle, consider getting in touch with a New York personal injury attorney. There are many potential options for those who wish to pursue compensation for fire-related injuries, including product liability lawsuits against e-bike or lithium-ion battery manufacturers. Reach out to Cohan Law, PLLC to learn more.
Sources: 
claimsjournal.com/news/east/2023/08/14/318648.htm
abc7ny.com/nyc-fire-lithium-ion-battery-queens/13639991/