Three Brooklyn Workers Suffer Serious Burns in Electrical Fire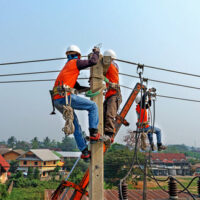 Workplaces in Brooklyn can be extremely dangerous, and employees face many hazards during a typical shift. Despite modern workplaces being much more safety-focused than in previous decades, accidents still happen. Recently, three Brooklyn workers suffered serious burns after an electrical fire broke out. If you have experienced a similar accident in Brooklyn, you might be wondering how to pursue compensation for medical expenses, missed wages, and other damages.
Critical Injuries Reported in Brooklyn after Major "Electric Arc" 
On August 11th, CBS News reported that three construction workers were receiving medical care after suffering critical injuries. The incident occurred at a construction site in Brooklyn, and it involved an electric arc that caused severe burns. At least one worker suffered burns to most of his body – including his face. There is sparse information about the circumstances of the accident – although one witness said several fire trucks and ambulances responded to the mayhem. The Department of Buildings is launching an immediate investigation into the incident, and inspectors were also quick to arrive at the work site.
How Can I Get Compensation After a Burn Injury at Work? 
Burns can be some of the most life-altering injuries imaginable. Not only can they cause serious health concerns, but they can also lead to psychological issues after patients recover. This is especially true in the case of disfiguring facial burns. Even if a worker makes a full physical recovery after a fire, they may never feel the same way about their self-image and self-confidence. This is why suing for non-economic damages is so important after a disfiguring burn injury.
Unfortunately, workers' compensation does not provide compensation for non-economic damages. This is why it might be a smart idea to speak with an injury attorney about the possibility of filing a direct personal injury lawsuit. Under certain circumstances, injured workers may sue third parties directly for workplace accidents. For example, if a construction laborer was injured by a fire caused by an electrician from a separate company, this may result in a personal injury lawsuit rather than a workers' comp claim. In addition, all gravity-related accidents may result in personal injury lawsuits rather than workers' comp claims due to New York's unique "Scaffold Law."
If a workers' comp claim is the only possible route toward compensation, it can still provide important benefits that should be capitalized on. Injured workers can receive compensation for missed future wages and medical expenses. This may help workers receive reconstructive surgery for facial burns – even if the compensation does not directly apply to the non-economic, emotional aspects of the injury.
Where Can I Find a Qualified, Experienced Injury Attorney in Brooklyn? 
If you have suffered a workplace accident, consider getting in touch with a dedicated New York personal injury attorney. One of the first steps is to determine how you can pursue compensation for your injuries, and there are a few potential options. You can discuss these options alongside your attorney during a consultation and determine the best route forward. Reach out to Cohan Law, PLLC today to get started.
Sources: 
cbsnews.com/newyork/news/construction-workers-injured-brooklyn-electrical-fire/
ncbi.nlm.nih.gov/books/NBK559290/