Cyclist Accidents Are Getting Out of Control in New York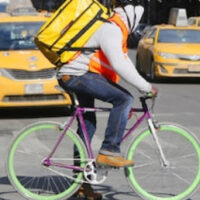 As any cyclist will tell you, New York's streets aren't exactly bike-friendly. Sure: There are plenty of bike lanes, and drivers are expected to share the road with cyclists in many situations. That said, the statistics don't lie. Many cyclists are injured on a weekly basis, and the past week in New York has been no exception. If you have been injured while cycling, you might be wondering how you can pursue compensation.
Box Truck Hits Cyclist in Brooklyn 
On October 4th of 2023, it was reported that a box truck had struck a cyclist in Brooklyn. This tragic accident claimed the life of the cyclist, and police immediately announced that they were investigating the incident. Although they didn't say whether charges would be filed, this is certainly a possibility. The cyclist in question was 56 years of age, and the accident seems to have occurred at a major intersection. The driver seems to have cooperated with the authorities, and he did not flee the scene of the accident.
High School Senior Tragically Loses Life in Bike Accident 
Just one day prior on October 3rd of 2023, the New York Post reported that another cyclist had lost their life. This victim was much younger, at just 17 years of age. He was allegedly hit by a school bus when cycling near his high school. It is not clear how the accident occurred, but the school bus driver (an elderly woman) attempted to swerve left at the last moment to avoid the impact.
Teen Cyclist in Critical Condition after Accident in Brooklyn 
On October 9th, it was reported that another teen had been struck while cycling in Brooklyn. Although this 19-year-old managed to survive the impact, first responders announced that he was "fighting for his life" in hospital. Apparently, he was struck while riding down 13th avenue. The driver stayed at the scene and cooperated with police, although no one was arrested in connection to the incident. However, police did stress that this was the second serious crash at this specific intersection within a year and the eighth on 13th avenue. In total 24, cyclists have been killed in crashes this year – marking one of the deadliest years for cyclists according to Transportation Alternatives. It is also worth mentioning that pedestrians also suffer serious threats from vehicles in Brooklyn – even when crossing marked crosswalks.
Where Can I Find a Qualified, Experienced Personal Injury Attorney in Brooklyn? 
If you were injured while riding your bike in Brooklyn, consider getting in touch with a New York personal injury attorney to assess your legal options. Although it can be tricky to pursue compensation without car insurance coverage, your chances might be better than you think. The only way to find out for sure is to book a consultation and discuss your unique situation. Choose Cohan Law, PLLC today.
Sources: 
fox5ny.com/news/nyc-crime-box-truck-crash-kills-cyclist-in-brooklyn
nypost.com/2023/10/03/high-school-senior-on-bike-killed-by-school-bus-driver/
nyc.streetsblog.org/2023/10/05/another-cyclist-killed-most-ever-in-vision-zero-era