Why Garbage Trucks Are So Hazardous in New York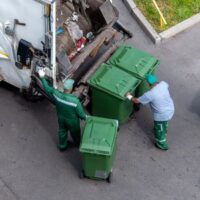 Although the average driver in New York might not think much of the slow, lumbering pace of garbage trucks, these vehicles pose unique and serious safety hazards to the general public. On more than one occasion, people have been injured or killed by garbage trucks – and negligence is often to blame. But why are these vehicles so dangerous, and what can you do if you have been injured in a New York garbage truck crash?
Garbage Truck Crashes Are All Too Common in New York
 Garbage truck crashes seem to occur at a fairly regular pace in New York. On October 13th of 2023, it was reported that a man in Harrisville had lost his life after a collision involving a garbage truck on Route 3. It seems that the victim was inside the garbage truck at the time of the crash, and the driver suffered injuries as a result of the incident. Both of the occupants were working at the time, and images from the scene indicate that the vehicle veered off the road. It was later revealed that the crash had been caused by a right rear tire failure.
Another serious dump truck crash occurred in August of 2023, when a truck spilled garbage across the Brooklyn Queens Expressway. The crash caused four confirmed injuries, and some of these injuries were apparently caused by debris left on the road.
The Key Hazards Associated with Garbage Trucks 
Garbage trucks are associated with a number of unique hazards:
Unpredictable Movements: Garbage trucks tend to brake and accelerate suddenly and without warning, causing issues for drivers trying to follow at a safe distance. Often, garbage truck drivers cannot see those behind or in front, and these unpredictable movements lead to safety concerns.
Unbalanced Loads: Garbage trucks are also associated with unbalanced loads, as their cargo may shift during transport. The nature of garbage means that it is almost impossible to distribute the weight in a predictable manner – leading to an increased risk of rollovers and crashes.
Movement Through Residential Areas: Despite their size, garbage trucks often move through narrow roads and quiet residential areas. Visibility is a concern along with potential dangers to pedestrians. This is especially true for children who may not be visible in blind spots.
Injured plaintiffs harmed by garbage trucks can file injury lawsuits to recover compensation for medical expenses, missed wages, emotional distress, and other damages.
Where Can I Find a Qualified, Experienced Personal Injury Attorney in New York? 
If you've been searching for a qualified, experienced New York personal injury attorney, look no further than Cohan Law, PLLC. Over the years, we have helped numerous injured plaintiffs in the Empire State – including those who have been injured in truck crashes. During an initial consultation, we can discuss your legal options and the most appropriate route forward. Reach out today to get started.
Sources: 
wwnytv.com/2023/10/13/1-killed-garbage-truck-crash/
abc7ny.com/bqe-traffic-accident-closed/13688472/
wwnytv.com/2023/10/13/carthage-man-dies-garbage-truck-rollover/