Mentally Ill Driver Strikes Seven Pedestrians in Manhattan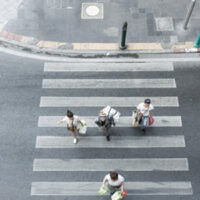 In a densely-populated area like Manhattan, pedestrians are seriously exposed to vehicles. Even a brief lapse of concentration can send a vehicle into a crowd of people, causing serious injuries. Such was the case when a woman hurtled into a crowd and struck seven pedestrians. Details are beginning to emerge, and it seems as though this individual was suffering from a mental health crisis. She also appears to have run a red light prior to the crash.
Woman Undergoes Psychiatric Evaluation After Crashing into Crowd of People 
On August 21st, it was reported that a woman had struck a crowd of pedestrians while driving in Manhattan. This individual seems to be dealing with mental health issues, and the authorities announced that she was undergoing a psychiatric evaluation as part of the investigation.
Although details are vague, there are a few indisputable facts: The woman ran a red light prior to the crash, and seven pedestrians were injured as a result. Victims suffered a range of injuries, including lacerations and bruises. At least one Italian tourist was in critical condition following the impact, and he was transported to a nearby hospital for treatment. Another victim reportedly suffered two broken legs as a result of the crash.
Video footage of the scene emerged on the internet, and the aftermath was gruesome and disturbing. The driver did not stop after the impact, and it was only after a secondary crash with three other vehicles that she finally came to a halt. This driver also suffered injuries, and had to be hospitalized. Initial interviews with police seem to suggest that she "prayed to God" after running the red light. She also seems to have revealed that she closed her eyes prior to the impact, assumedly while she was praying aloud. That being said, the woman was not intoxicated – and there is no indication that this was an intentional act of terror.
The woman faces numerous criminal charges as a result of the crash, but it's not clear whether she will plead insanity as a defense strategy. Even if she does, the victims could pursue compensation directly through a personal injury claim. That said, the plaintiffs' ability to pursue compensation depends on whether the defendant has assets that can cover medical expenses and other damages. At the very least, they may turn to their own insurance policy for coverage.
Where Can I Find a Qualified, Experienced Personal Injury Attorney in Manhattan? 
If you have suffered an injury as a pedestrian in Manhattan, consider getting in touch with a New York personal injury attorney. These legal professionals can guide you toward the compensation you need for medical expenses, missed wages, emotional distress, and any other damages you might have been forced to endure. Reckless drivers should be held accountable for pedestrian accidents, so reach out to Cohan Law, PLLC to pursue justice today.
 Sources: 
abc7ny.com/midtown-crash-pedestrians-injured-queens/13678755/
nydailynews.com/new-york/nyc-crime/ny-pedestrians-struck-manhattan-hit-and-run-driver-queens-crash-20230821-tpc7iextirfeblyigjkmeskiqi-story.html