Numerous Injuries Reported at Midtown Construction Site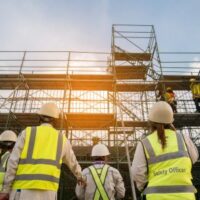 One of the most interesting New York construction projects of recent memory is a high-rise building in Midtown which will also feature an amusement park ride on its roof. The entire concept seems somewhat bizarre and potentially dangerous. Unfortunately, the project has already seen a plethora of accidents – even before the roof-mounted free-fall ride accepts its first passengers.
Yet Another Injury Reported at 740 Eighth Avenue
 On October 16th, it was reported that yet another worker had suffered injuries while working at 740 Eighth Avenue in Midtown. The construction site initially made headlines due to its unique free-fall-style amusement park ride on its roof, but now it seems to be appearing in the news for all the wrong reasons. According to Patch, the work site has seen a total of 12 safety violations and at least seven injuries within 2023 alone.
The latest injury involves a worker falling onto their back. Ten emergency vehicles arrived at the scene and attempted to hoist a man out of an excavation pit. Unfortunately, sirens and first responders have become a common site at this particular work site. While the worker fell a relatively short distance of five feet, this is more than enough to cause serious injuries, fractures, and potential paralysis.
Building inspectors immediately visited the site and spotted "inadequate housekeeping issues that created hazards at the site, including pooling water." In June, the contractor was cited for two injuries involving items falling onto workers' heads and feet. Other injuries over the course of 2023 include smashed fingers, falls from ladders, and more.
Suing Contractors after Falls at New York Construction Sites 
It is worth mentioning that workers can sue contractors and property owners directly after suffering fall-related injuries at New York construction sites. This is due to something called the "Scaffold Law," a piece of legislation that is over 100 years old. The law makes New York a rare example of a jurisdiction that allows workers to sue their employers – something that isn't normally allowed under workers' compensation regulations. Doing so may be beneficial, especially when you consider the fact that workers' comp does not provide any compensation for non-economic damages.
Examples of non-economic damages include emotional distress, pain & suffering, disfigurement, loss of enjoyment of life, PTSD, and much more. These non-economic damages can increase total settlements, and they may be included in direct personal injury lawsuits – but not workers' compensation claims.
Where Can I Find a Qualified, Experienced Personal Injury Attorney in Midtown? 
If you've been searching for a qualified, experienced New York personal injury attorney, look no further than Cohan Law, PLLC. Over the years, we have helped numerous injured plaintiffs pursue compensation for medical expenses, missed wages, emotional distress, and various other damages. Whether you were injured while working at a construction site or while riding an amusement park ride, you have the right to explore your legal options and hold negligent parties accountable. Book your consultation today to get started.
Sources: 
patch.com/new-york/midtown-nyc/another-injury-midtown-amusement-ride-building-site-officials
scaffoldlaw.org/