Yet Another School Bus Crashes in Queens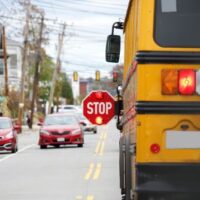 If you've been keeping an eye on car accidents in New York, you might be aware that school buses have a worrying tendency to crash. What makes these incidents especially troubling is the fact that school buses tend to transport children – putting the most vulnerable members of our society at risk. While varying factors can cause school bus crashes, one must remember that negligence is always a potential cause.
10 Injured in Queens School Bus Crash 
On October 23rd of 2023, CBS New York reported that ten individuals had been injured in a Queens school bus crash. Due to the recent nature of the crash, few details were available. However, CBS confirmed that the crash occurred at approximately 9 AM – suggesting that it might have taken place when children were on their way to school on Monday morning. The report also stated that the crash was under investigation, and that it wasn't clear whether any of the victims were students. Based on the circumstances, however, it seems fair to assume that at least some of the victims were minors.
Why Are School Bus Crashes So Common? 
A pattern is emerging that seems to suggest that school buses are more prone to crashes than many other types of vehicles on New York roads. Why is this? While there are many factors involved, there is always the possibility that the school bus driver may be to blame. This is especially relevant when you consider the hiring practices of most school districts in New York.
The truth is that a school bus driver represents a relatively low-paid position. Those who wish to become professional drivers mostly gravitate toward the trucking industry, as it is well within the realms of possibility to make a six-figure salary with this job. UPS drivers just negotiated a base salary of over $150,000 per year – making this another obvious choice for those who wish to pursue professional driving careers. Even Uber drivers or food delivery drivers have the potential to earn more than school bus drivers.
With so many professional drivers gravitating toward higher-paid positions, the hiring pool for school districts seeking bus drivers is rather limited. In fact, sometimes the only people remaining are problematic for a number of reasons. They may be at an advanced age – perhaps with cognitive or visual issues that prevent them from driving safely. They might also have numerous violations on their driving record – including DUIs. Faced with no other options, school districts may hire these drivers despite their red flags. Such hiring practices may constitute negligence – and they may lead to lawsuits filed by injured parties.
Where Can I Find a Qualified, Experienced Personal Injury Attorney in New York? 
If you've been searching for a qualified, experienced New York personal injury attorney, look no further than Cohan Law, PLLC. We know that school bus crashes can be especially alarming – particularly when your children are at risk. If your family has been involved in a New York school bus crash, you might consider speaking with an attorney. It may be possible to pursue compensation for any damages your family was forced to endure. Book a consultation to discuss your next steps in greater detail.
Sources: 
cbsnews.com/newyork/news/school-bus-crashes-monday-in-queens/
theglobeandmail.com/business/commentary/article-ups-drivers-salary-delivery-services/